New! Foundations Matter White Paper
A Key Role for Foundational Literacy Skills & Evidence-Based Instruction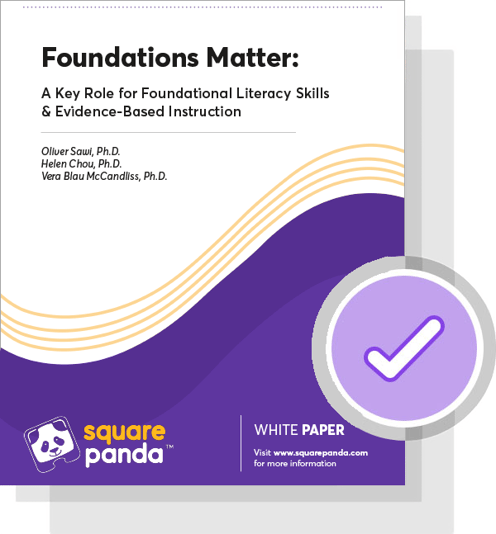 Early literacy instruction faces a problem: 65% of U.S. elementary students are not proficient readers by fourth grade.
Literacy achievement levels can improve if reading instruction is based on the Science of Reading and the developmental science of learning to read.
Learn the critical components of evidence-based reading instruction, phonemic awareness & phonics, and why they are critical to help students succeed.
Executive Summary
Recently, the National Assessment of Educational Progress revealed that 65% of U.S. elementary students failed to achieve proficient levels of reading by the fourth grade*. This is a decade-old problem which tends to disproportionately affect students from low-income families.
This sobering reality stands in sharp contrast to what researchers today believe. Students' literacy achievement levels could exceed current performance levels if their reading instruction was based on the Science of Reading and the converging evidence on how students can successfully learn to read, why they may fail, and how to intervene if they fail or continue to struggle.
To understand this dichotomy and sketch a path forward, this white paper reviews the neurocognitive development involved in learning to read, specifically during the years of pre-K through third grade. It furthermore examines the recommendations for evidence-based, early reading instruction. Among the five essential components of reading, a particular emphasis is placed on the roles of phonemic awareness and phonics, collectively known as alphabetics. While not sufficient on their own, these skills build the foundation for strong word decoding skills, which in turn correlate with reading comprehension skills in upper elementary grades.
Many of these insights have limited impact in practice unless there are clear guidelines on how to translate research findings into educational or classroom practice. Hence, we review the general practices that promote success in literacy, including the need to provide explicit, systematic, and sequential instruction.
In addition, scaffolded practice and giving learners immediate feedback on their performance, engaging students and a sensitivity to a student's individual learning needs are important factors for increasing student success. Finally, we provide examples of how one supplemental reading program, the Square Panda Literacy System, aligns with elements of evidence-based instruction and how it can be applied in classroom practice.
Download this White Paper to learn about:
The challenges facing early literacy instruction today and the key role of evidence-based instruction to help solve them

Insights from the developmental science of learning to read and how literacy changes a student's abilities and the functional organization of their brains

The critical components of evidence-based reading instruction, phonemic awareness and phonics, and why these components are critical to help students succeed

How to enhance classroom instruction by using evidence-based tools, including the supplementary Square Panda Literacy System